Cool, hidden and unusual cultural things to do in Plett
Posted on Tue September 3, 2019.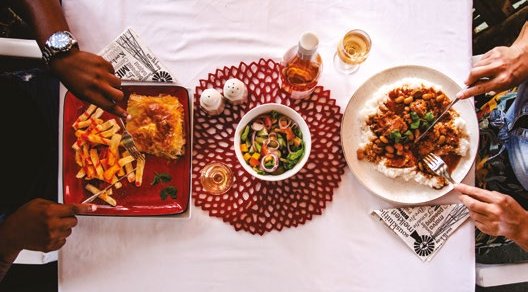 Plettenberg Bay is a town of innovators. What other dorp is home to an artistically interpreted elephant call, a traditional Tshisa Nyama that also serves wood-fire pizza, and a weaving museum? Here is a list of some of Plett's unique cultural experiences that you don't want to miss!
NAVIGATING THE PAST
A tour through Plettenberg Bay history Mike Kantey / 072 628 5131 South African author and editor, Mike Kantey, provides a guided tour incorporating the history of Plettenberg Bay. The tour begins at Nelson Bay Cave (Wagenaar's Cave), to explore an early human shelter from over 125 000 years ago. The Nelson Bay Cave is a historically recognised Stone Age archaeological site located on the popular Robberg Peninsula. The tour then proceeds to an examination of a Portuguese shipwreck from the 17th Century.
This is followed by a visit to a Boundary Stone of the Dutch East India Company from the late 18th Century, where Governor Baron von Plettenberg commissioned the Timber Shed, now a proclaimed National Monument. Across the road is the Old Rectory Hotel which remained virtually intact from the days of the Dutch East India Company and is now fully renovated. It served as lodgings for the DEIC employees, became English barracks and then a rectory for the Anglican church. The story ends with the Beacon Isle Hotel, home to a 19th Century navigational beacon and relics from the early whaling industry.
KRANSHOEK GRIQUA MUSEUM AND MONUMENT
Elsbeth Cloete / 044-5339338 236 Monument Street, corner Menjanie Lane, Kranshoek. Open Daily from 8am – 4pm / Free entrance (donation only) The Griqua nation, descendants of the Khoisan, have called Plettenberg Bay home since 1927, settling in Kranshoek in 1939 under the leadership of Andrew Andries Stockenstrom Le Fleur. Le Fleur, or the Reformer, as he was known, died in a house adjacent to the site of his tomb at Robberg on 11 June 1941. It is still a regular place of pilgrimage for the Griqua people of South Africa. His eldest son Abraham Le Fleur succeeded him as leader of the Griqua people.
The new national paramount chief of the Griqua nation, Alan le Fleur, was instated in 2005. "I will not do everything like my father did as I am a leader in my own right. I am looking towards a future where urgent discussions with leaders on local, regional and national level need to take place," he said. A museum in the centre of the Kranshoek village narrates the history of the Griqua in Plettenberg Bay, situated adjacent to the Griqua National Monument erected in 1942, celebrating the early Griqua pioneers. A short walk from the village centre you will find the Aartmoeders landart sculpture, on the edge of the spectacular Kranshoek cliffs.
AARTMOEDERS AND CALLING THE HERD
Calling the herd
Landart Sculptures Kranshoek and Diepwalle Crossroads In 2011, the Griqua community of Kranshoek were
given the opportunity to collaborate with Site_Specific and Eden to Addo to produce a landart piece, Aartmoeders. This unique coming together of art, community and conservation, has greatly enhanced the natural and cultural value of the area. Together with Griqua stone masons, land artist Simon Max Bannister erected three stone elephants. The land art piece is in celebration of the Robberg Coastal Corridor connecting the Garden Route National Park to the Robberg Nature Reserve, allowing for free movement of all species between these two protected areas.
Bringing communities together to celebrate the beauty of the area, Aartmoeders is an easy walk from the village centre, and why not hike the Kranshoek Trail? In 2013 the second land art piece, 'Calling the Herd' was erected by Strijdom van der Merwe, to celebrate the Keurbooms Corridor connecting the Garden of Eden section of the Garden Route National Park to the Tsitsikamma National Park section. The unveiling of the art piece opened the 2013 Site_Specific International Land Art Biennale. This exciting interactive land artwork in the Keurbooms Corridor consists of several trumpet like funnels combined in a tree shape. Visitors can blow these trumpets – recalling the sounds of elephants on their ancient migration route across the mountains.
Symbolically this artwork links to the three elephant sculptures of Aartmoeders – calling them (and all humans that can hear the call) to join in the Eden to Addo journey towards reestablishing nature's ancient routes for all species. Travel along the R340 towards Wittedrift and Avontuur for 28km to the crossroads at Diepwalle.
OLD NICK VILLAGE AND THE MUNGO MILL TOUR
N2, 1km from the Engen entrance to Plett on the PE side. Open daily / Phone for mill tour times on 044 533 1395. The Gansevallei farmhouse, originally built in 1880, was home to the Toplis family and has been a trading space ever since those days. Almost a hundred years on, The Gansvlei Algemene Handelaar became a second hand furniture store and was renamed Old Nick. Now, with sensitive renovation of the original trading store and outbuildings, farmhouse and stables, artists, craftsmen and designers ply their trade at Old Nick Village. In a world where technology is king, it's wonderful to take a walk down memory lane and experience the old methods of times past, first-hand.
Amongst the plethora of offerings, Mungo Mill stands proudly as one of the few working textile mills still in operation today. Open to the public, the mill showcases a cross-section of weaving production from pre-industrial revolution to present day. Not only is the architecture of the new mill spectacular with a large central, doublevolume room that houses 16 restored looms, but to watch the process unfold is truly mesmerising. After the tour of the mill, visit the Mungo shop, where the end results of the design, weave and cmt process, can be viewed and bought.
DIE PLAAS – TRADITIONAL RESTAURANT
Phone John Ruiters for reservations 076 790 9648 / 8780 Swarthout Road, New Horizon The first of its kind, Die Plaas, is a new restaurant in New Horizon, where owner and chef John Ruiters is celebrating the art of food and cooking, as he remembers it from childhood. A lifelong dream come to fruition, John is happiest when he is in the kitchen and sharing his love for food with all who pop in for a bite. With a vintage feel and a rustic ambiance, Die Plaas feels like coming home to granny's kitchen. Open by appointment.
                                                                    Lunch at Die Plaas
PLETT IKASI LIFE
Nada J
Lifestyle venues and eateries in Kwanokuthula From jazz to house, from street-smart food to traditional, from fashion design to cool hang out spots and eateries, there's certainly never a dull moment in Kwano. Nada J Studios is the workshop of Noloyiso 'Nada' Jujwana of Nada J Creations. Fashion Designer extraordinaire,
inspired by life, the people around her and the community she grew up in, this fashionista is creating and selling unique styles for both men and women.
Her popular Afrocentric-inspired accessories are modish, and for those wanting something special to take home or to stand out in the crowd – she is the answer to your prayers. You will need to book an appointment with Nada. Message her on Facebook before your visit – NadaJ Creations or phone 072 112 3099.
Voorhuise is an event and lifestyle venue with a focus on live entertainment served up with a side of local flavours to leave your soul and stomach completely satisfied. The entertainment line-up is an exciting mix of artists with a passion for street performance, live music and the visual arts. The venue is not open daily, so be sure to check out their entertainment line-up on their Facebook Page – Voorhuiseplett or phone 084 748 1315.
Kasi Lifestyle Tshisa Nyama is as legit as it gets. It's in a quiet neighbourhood section of the township, specialising in great cooking. These young restaurateurs are killing it with their artisanal wood-oven baked pizzas, traditional braai (barbecue) recipes and some serious South African side dish favourites. Mix and mingle and enjoy the good food and fellowship at this colourful local hangout. Open daily from 12pm – closing time. 078 787 6984. 7918 Mbekweni Street, Kwanokuthula.
Farmer's Meat Tshisa Nyama is a traditional South African butchery, offering guests tshisa nyama -style braaing (barbecue). You can take it as it comes; either straight off the knife or from the fire. Open daily. 078 613 4159. U-Save Centre, Cor. N2 and Sishuba Street, Kwanokuthula.
The N2 Lounge is one of those places where everyone knows your name. A spot that will have you coming back, week after week or whenever you are back in town. They have something special to offer just about everyone; a friendly bartender, fancy cocktails and it's the perfect spot to go to and get away and catch up over a beer. You will find them just off the N2 at the entrance of Kwano. Open daily from 3pm. 076 745 0816. U-Save Centre, Cor. N2 and Sishuba Street, Kwanokuthula.
Skhulu'z Lounge (Schoolboy's Tavern) is one of Plett's oldest running music cafes, currently featuring local DJ's spinning some fine South African jazz and house music. This is your hotspot, smack in the hub of Kwano, for young and hip socialites on the move. It's a dance club, a bar and home to local soccer clubs and their fans. You will find them on Sishuba Street (the main road) through Kwano. Open daily, phone for directions on 079 045 7605.
THE PLETT WINELANDS
Work your way slowly through South Africa's smallest Wine of Origin region and grape-growing community. The Plett Winelands is rapidly developing into a notable wine and bubbly region in its own right and a winetasting meander through one or more of 16 wine farms in and around Plett will surely delight. From the viridianbeflecked valleys of Harkerville and fynbos-bedecked Crags further west, to Lodestone's effervescent Rosé and the wholesome pleasures of Packwood's Pinot – the more you visit, the prettier it gets. Chances are you might start your journey at Bramon – pioneer estate of the Garden Route's nouveau-vintners' community. Visit www. plettwinelands.com for more information and to start your next winelands journey.
Originally From Plett Tourism