Flying High
Posted on Wed October 24, 2018.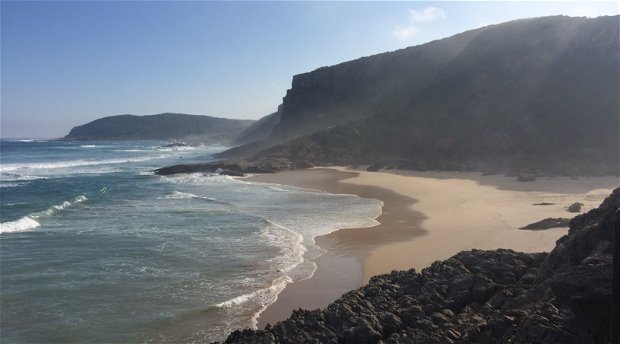 That otherworldly screaming you're hearing is most probably your own voice as you throw yourself off a bridge or jumped from a plane! Calling all adrenaline and extreme sport junkies… it's that time again when you feel the rush of blood to your head and let the endorphins wash over every cell in your body. Plett is home to several outdoor adrenaline fun activities beckoning those who enjoy nothing more than having the daylights scared right out of them. So where can you go if you feel the need for goosebumps?
At AfriCanyon, nestled in the valleys of The Crags, you'll find a treasure trove of adrenaline filled activities. If it's a rush you're seeking, then look no further. Here, professional guides are trained to take you to the edge of sanity and back, as often as your heart (and your shorts) can take it. Swim or hike along the river while enjoying the beautiful scenery as you go, get your heart pumping as you jump or rappel from the top of a waterfall's cliff or zip line over a 98-foot (30-meter) waterfall into the river below!
And the best part…you get to look the part of a rough and ready Rambo in your helmet, wetsuit, life vest and harnesses. Oh yes, selfies for the friends at home are definitely mandatory. For more info visit africanyon.com.
Face Adrenaline. It's all in the name really, so no prizes for guessing what you can throw yourself into here. Need a little hint? Okay, it involves a sturdy cord and a very strong harness. Bungy baby! Yes folks, man has come far from the slimy ooze of a puddle, to cave dwelling, to walking upright and now…we throw ourselves off a bridge for fun.
But don't knock it until you've tried it. The interesting thing is that once you've done it, you're probably going to want to do it again. It's that exciting! No fitness needed here but a strong heart and a spare set of clothes will probably be wise, just in case. To book your hair-raising experience visit faceadrenalin.com.
Dream of flying? Skydive Plett can help you. For a nominal fee, a lovely young chap will strap himself to you and leap from a moving plane, with you in tow, hurtling you both towards the ground at top speed.
Then just before you hit the beach, he'll yank a cord and you'll drift, ever so gently towards the golden sand. Sound appealing? Then, by Jo, this is the perfect activity for you. There's no arguing that the views from your jump will absolutely blow your mind. Free as a bird, you'll soon forget all your troubles as you take in the beauty of Plett from your bird's-eye view. To get your aerial seat, as it were, visit skydiveplett.com.
If gliding is more your speed, then Plett's got your back. Plett Aerobatic and Glider Flights are on standby to whisk you across the bay, upside down at times, in a glider that will ensure views that you could only imagine. If you're a slightly nervous flyer then you may want to wait until after your maiden flight to have a snack – just saying. To find out how you can soar through the Plett skies like an eagle, visit gardenroutegliding.co.za.
Sometimes you need a little interaction with nature and her wild creatures, to feel alive. With Offshore Adventures you can "get wet in Plett" and dive with seals. Thankfully, as nature intended, you can't smell the little darlings when you're underwater with them. So, keep that mask on at all times. Get up close and personal with South African Fur Seals, at Robberg Nature Reserve, a Marine Protected Area, home to approximately 6000 of the playful, inquisitive cuties. For more info visit offshoreadventures.co.za.
Sky, water, and now, back to land. At Southern Comfort Farm you can race at breakneck speed, with a powerful quad motor between your thighs. Like Mad Max, you'll rip up the road under your wheels while squealing with delight like a toddler. Get your road warrior on and traverse the forests and farm roads on a quad bike. All you'll need is your sense of adventure. Visit schranch.co.zaand get revving.
Do you have strong ankles and laser sharp eyesight? You do? Then trail running across Robberg Nature Reserve is for you. The fact that there's a caracal living there, may just give you a little boost to run faster. Don't worry too much though, apparently it is quite shy and more afraid of you that you will ever be of it. Like the spider principal. But, I digress. Trail running is sure to release more than enough endorphins, so you can face whatever life, or the trail throws at you. To see the gorgeous reserve online visit capenature.co.za.
Originally From Plett Tourism