Plett's Delicious Detours
Posted on Tue April 30, 2019.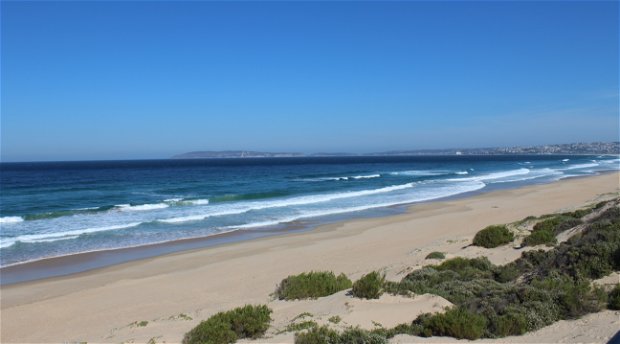 We've mapped out some of our best new counter cafés, local braais and unique curb-appeal spots to grab a bite.
THAI-YING
The beautiful Ying of Thai Ying
At the Beacon Isle Kwikspar, you will find a special counter with Thai food as authentic as the streets of Chiang
Mai. There's an old saying in Thailand that goes something like this, "Wealth is measured at the dinner table." In fact, if you have the opportunity to travel to Thailand, you will soon see how food is not just sustenance, but an expression of family, friends, life and all the joys they bring.
Noodle bars line the streets and in every conceivable space, the art of cooking is celebrated. Street food is taken up a notch or three and visitors are spoilt for choice when it comes to the true flavour of Thailand. A Thai through and through, Ying Tanutatchusin, has brought with her, from the mainland, her knowledge and love for Thai cuisine.
Cooking from the age of 12, she is a perfectionist in the kitchen, treating the locals of Plett to the fragrance and taste of pukka Thai cuisine. No true Thai chef will ever compromise on authenticity and freshness and Ying is no different. She grows her own ingredients as far as possible and imports what she cannot supply herself from her home garden. Retaining the crunch is an important factor and starting off with the freshest greens is key.
Ying's go-to meal usually includes her favourite, sweet and sour fish. Granted, Thai food is generally flash fried but even so, there is a limit to what you can cook for takeaway purposes. It is Ying's dream to work towards opening a cosy home restaurant where she can expand her menu to include all of her childhood favourites. Keen to place an order? Phone 082 076 8721.
FARMER'S MEAT BUTCHERY
Traditional Tshisa Nyama at Farmers Meat Butchery
Members of the local Kwano community meld the special butchery cuts at Farmer's Meat with Tshisa Nyama cooking, and their traditional dishes. It's one of the new Tshisa Nyama outlets, situated in the uSave Centre right at the entrance of Kwanokuthula.
Seeing that it is the only butchery in Kwano, it has been thriving ever since opening its doors in 2018, so too its popularity. You buy it and you braai it!
Lounge around with family and friends while you wait. Farmer's Meat does not serve alcohol on the premises, but they're within minutes of the popular N2 Lounge for those who'd rather quench. Rub shoulders with the who's who in Kwano and hang out like a local.
Insider tip – order the side dishes of pap and chakalaka. Book your table and phone for directions, 083 344 9650.
THE TABLE & THE TABLE ON THE EDGE
The Table on the Edge staff from left Joyce Savage Sheree Pedro Colin Silly Lizelia Zono Mathew Skosana, Brumilda Pati Jenniliee Prins and Julius Duma centre
The year was 2012, and the dream was to create a bona-fide 'pizza pie' restaurant when no one was looking. With a master's degree in proper Neopolitan sauce, Chris Fermor and his team are kicking it old-world-style Italian and mixing it up with some out-there toppings.
There are also some other house favourites that may just drop you to your knees, if you give them a shot. Here you will find all the right ingredients for the perfect pizza. They use fresh dough for a crispy but chewy crust, a traditional tomato and herb base and only the best quality cheeses and tasty toppings to create the perfect pizza pie.
Because pizza and beer go hand-in-hand, they offer a range of craft beers on tap to wash it all down. And BOOM, you're well on your way to a memorable night out in Plett! Phone if you want to place a takeaway order, 044 533 3024.
New to the story is a restaurant literally on the edge, a location for those looking for the ultimate thrill. At the Bloukrans Bridge, on your way along the N2 just before Tsitsikamma, you will find the world's highest bungy from a bridge – Face Adrenalin. Here you may also find Chris at his new restaurant – The Table on the Edge. Get an adrenaline kick with a jump, a zip line or even a bridge walk and then head on over for some 'pizza pie' with The Table's traditional kick-ass sauce and toppings.
DIE PLAAS
Seafood platter at Die Plaas
Take some time and experience traditional tastes in the enriching township of New Horizons. Walking into Die Plaas (The Farm), reminiscent of its name, you forget that you're in a suburban neighbourhood just outside of Plett. Owner and Chef, John Ruiters is welcoming with his warm smile, and similar to true farm-style, you're immediately drawn into countryside life. Die Plaas has a vintage feel and look about it, the kind of rusty you'd appreciate.
An old oven is perfectly situated at the centre of what appears to be John's small open plan kitchen. It's a cosy eatery that can accommodate at least 18 people inside. It's called Die Plaas because owner John says food has been modernised unnecessarily over the last decades, and this is his way of going back to his roots. John also complains that people don't eat for pleasure anymore, but for Instagram and social image.
Not one to skimp on quantity, John is old school and criticizes those establishments serving people small portions as opposed to offering a hearty meal. The food varies, and you will often find a selection of fish dishes, traditional "Coloured cuisine", and Indian-inspired meals – you can mix and match courses as you go along. The menu is basically an all-rounder, with certain items by pre-order.
A house-favourite is 'The Towering Inferno', or you may want to try his signature creamy seafood soup. They do not serve alcohol on the premises, but patrons are more than welcome to bring along their alcohol of choice when visiting. "I grew up in a food environment, my Mom is an Italian," John tells me. So, it's not surprising that he has fallen in love with everything foodie, and has, over the last three years, won the local Plett PnP braai competitions. It's a new neighbourhood joint, loved by locals, their families and friends. It's a one-of-a-kind in New Horizons – the food is great, the host is friendly, and you immediately feel at home.
Book your table and phone for directions, 079 873 0957.
KASI LIFESTYLE
Previously known as Wa Rafika Tshisa'Nyama, now under new management, KASI LIFESTYLE TSHISA NYAMA offers the best of African cooking, especially traditional treats such as Umqgusho, Udombolo and more, to complement your Tshisa Nyama (braai). Top all that off with an American favourite – oven-fired pizza! It's a start-up venture funded, owned and operated by a well-known face in the local restaurant industry – Truet Sebofi. He and his family are ready to impress.
"I have worked in hospitality, tourism and service industry for over 25 years, and started the venture whilst employed at Enrico's Ristorante: "I have worked and developed skills in every aspect of the restaurant business. I developed great relationships with my clients who are both locals and international tourists. I have realised that many people visit our beautiful area and yet there are very few opportunities to enjoy a positive yet authentic local experience, to meet, dine and interact with locals who they would not otherwise have the opportunity to meet". If you are ready for some true South African specialties, phone for directions and book your table for a journey of South African taste, 078 787 6984.
GREG'S COOKIN
Greg and Simra, husband and wife duo from Plett's popular food truck Greg's Cookin', are passionate about food. Frequent travellers in their early years, they gathered as much information and experience as possible before starting their journey of preparing healthy takeaway meals from home. They bought a caravan in 2015 and, with the help of friends, transformed it into a food truck. Pretty soon it was ready to rock and roll and they can now be found in season at Sanctuary Beach and at local and national festivals. Always experiencing and learning new things, Greg has completed a cheese and bread making course and, when not on the road, their kitchen is producing all kinds of delicious products. It's not an unusual sight to see foodies lined up to get a taste of the food that Greg and Simra lovingly create.
The good news is that the couple also cater for weddings, dinner parties and are happy to act as private chefs, with or without their mobile kitchen. An absolute favourite is their much-loved dish, Afghan Lamb served with delicious Middle East inspired flatbread. There are also plans afoot to expand their range and supply their homemade fare to local outlets. The dream is to convert a second truck into a mobile kitchen so that more of the same spectacular delights will make their way to hungry tummies. Phone them on 072 589 7337.
Originally from Plett Tourism