Top 5 Restaurants in Plettenberg Bay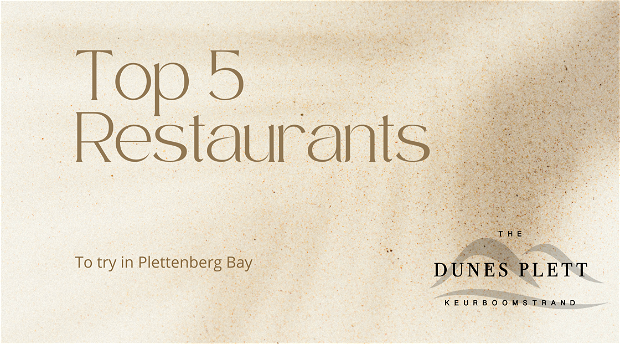 "Let them eat cake!" ~ Marie Antoinette
"Let them eat everything!" ~ The Dunes Plett
Any proud South African will tell you that when it comes to food, they take it seriously! Today, food is more of an art than just a mere dish. The more there is to discover, the more we wish to explore! Plettenberg Bay boasts unique restaurants with stunning views, and what better way to spend time with family than by treating yourselves to a delicious meal with breathtaking views, no matter which chair you sit in!
If picking up weight is a crime, then you'll be happy to 'do time' at these top 5 restaurants selected just for you!
Ristorante Enrico
Multitasking is easy here! Eat, drink, laugh and marvel at the sight of whales and dolphins all in one! Enrico offers you quality food worthy of a chef's kiss. With mouth-watering breakfasts, sundowners for the evening and recap the day over a gorgeous dinner, this is a restaurant for all hours of the day! Friendly service and an atmosphere for all trends, you will not be whole if you don't visit Enrico!
You can view their menu here.
The Fat Fish
Located in Plettenberg Bay and George, The Fat Fish offers fresh seafood, delectable sushi platters and traditional meals. What's more, you don't need to leave your fur-babies at home! With an outside area, your best friend can join you at both premises! Worried load shedding will find you when eating out? Not a problem! With fully functional generators, your food will never be served cold.
Wish to hold a function? Be it corporate or to celebrate with family and friends on special occasions, The Fat Fish provides you will all your needs!
Nineteen89
With a stunning view of the bay, Nineteen89 is trendy with locals and visitors alike. Assorted with a wide variety of meals, you will be in want for nothing. From burgers to grills and seafood, Nineteen89 meets all standards, and with an atmosphere of cheerful vibes and hospitable service, you will return to this restaurant again, and again, and again!
The Table Restaurant
Renowned for its pizzas, The Table is popular among locals, including its variety of pasta dishes. The ambiance is welcoming and charming, with staff who are always friendly. With a selection of craft beers and signature cocktails, The Table is a place for everyone to sit back and enjoy!
Nature's Valley Restaurant
On the outskirts of Plett is a little village that lives up to its name. Nature's Valley is known to be one of the most beautiful areas of the Garden Route. Nestled within this village is a bucolic restaurant suited to meet all different tastes; from toasted sandwiches to steaks, pizzas and chicken dishes. Nature's Valley offers take-away meals for you to enjoy on the beach. A trading shop is an added plus; where you can buy groceries, t-shirts, souvenirs and much more.