Fun Activities in Plettenberg Bay.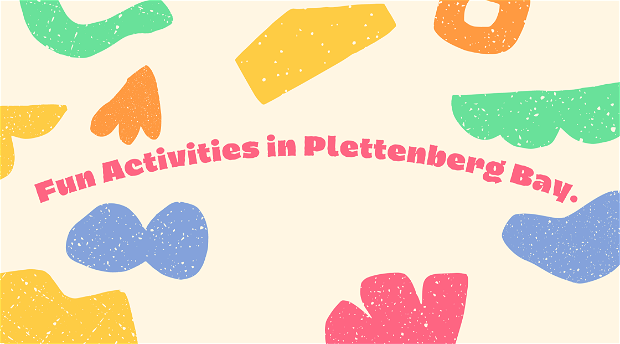 Plettenberg Bay has become a destination of choice for business, touring and most holiday destination due to its stunning sceneries and commercial successes. But what about fun? What can you do that will make your visit even more memorable?
Here are fun activities you can experience in Plettenberg Bay.

What better way to appreciate nature and all its wonders than watching these gentle giants of the ocean. An added bonus is spotting a school of dolphins that enjoy showing off their skills as to who can jump the highest when onlookers watch in delight.
A fun interactive activity for the entire family, swim and play with Robberg Nature Reserve's friendliest residents; African Cape Fur Seal. The Seal Colony spend their summer sunbathing on rocky shores and cool off in safe waters. Swimming with these curious and playful marine mammals offers you the ultimate human/animal bonding experience.
Supervised under professional guides, enjoy zip-lining, swimming through fresh-water mountain pools, sliding down natural waterfalls into the river gorge and abseiling; you will experience true canyon adventures. Be rest assured that you will be in good hands, as the team are professionals from the AfriCanyon team.
Known to be the world's highest bridge for bungee jumping, the 216m drop will make Wonder Woman think twice. The bridge has been recognised as the world's highest commercial bungee jump in 2003, winning two more world records in 2008. Famous people such as Prince Harry, Bobby Skinstad, Kelly Slater and The Amazing Race have made their visits to this bridge, so you'll never know who you may bump into when you're about to cross this daring activity off your Bucket List!
Why kayak in rivers when you can paddle along with schools of dolphins, or even spot a whale spraying you with water from its blowhole? It gives you a whole new perspective on the "There she blows!" from Moby Dick. You will also come across cheeky seals and friendly dolphins.
In the quite area known as Buffels Bay boasts a beautiful beach ideal for surfing. Whether you are a pro or wish to learn how to surf, your instructor will ensure your day will be one to remember! The team is all about motivation and encouragement! Step aside Aquaman! Surfing has become a gem in Plettenberg Bay!
Rent a jet ski for 30 minutes on the central beach in Plettenberg Bay. Guided tours with qualified skippers or ride a jet ski by yourself (provided you have a valid skipper's licence), this activity is for everyone!
The world's first and largest free roaming primate sanctuary is one of the iconic landmarks in Plettenberg Bay. The sanctuary hosts 11 species and over 550 primates. The tour lasts one hour, but your experience will be on to behold.
With the world's largest single dome free aviary, Birds of Eden boasts over 200 species with nearly 3,500 birds. Stunning natural surroundings, these birds are well taken care of. It is as if they came from the Garden of Eden itself!
A stunning sanctuary with enclosures built especially for the animals' needs and personalities, the sanctuary hosts apex cats and other predators and Wildlife Animals. The staff are friendly and well informed, making sure that when you leave the sanctuary, you will have a better understanding and deep appreciation for these beautiful animals.